Alice's Army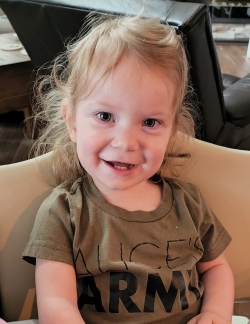 Alice was born on November 4th, 2020 and diagnosed with AHC on February 3rd, 2021. Alternating Hemiplegia of Childhood (AHC) is a rare neurological disorder that affects one in a million children. AHC is characterized by attacks of paralysis, involuntary muscle spasms, uncontrollable eye movements, changes in muscle tone and sometimes seizures. This can last anywhere from a few minutes to days and can cause cognitive and physical impairment or delay. These episodes are usually triggered by the unavoidable -- bright lights, loud noises, crowds, extreme temperatures, temperature change, water exposure, phyisical activity, odors, foods, emotional response, medications, and fatigue.
AHC is often referred to as "7 disorders in one"--
Stroke, Epilepsy, Cerebral Palsy, Parkinson's, ADHD, Autism, and Alzheimers.
There is currently no cure. AHCF, Cure AHC, and Hope for Annabel are partnering together to help fund research to develop a cure. It takes family and friends coming together to help raise awareness NOW! Time is of the essence for these kids; the older they get the less likely they will be eligible for clinical trials. Let's be apart of something huge not only for Alice but for other children with AHC.
Their future depends on it.
ABOUT AAV Project and Other Research
With funds raised from the AHC Foundation, we will support AAV gene therapy and other research related to the project. We believe a path has been identified to a viable permanent treatment: gene therapy. The gene therapy we propose will involve inserting a functional copy of the ATP1A3 gene into a virus (an adeno-associated virus or AAV) that has been stripped of its harmful payload and its ability to reproduce. The virus will then be injected into the cerebrospinal fluid and will carry the functional gene to the cells in the brain that are failing. By delivering additional functional copies of the gene, we should be able to rescue those cells, and treat the disease permanently.
Learn more about the project here.
Supporters
Name
Date
Amount
Comments
Anonymous Friend
07/30/2022
$5.00
Anonymous Friend
02/28/2022
$26.33
We pray they find a cure or a treatment for this devastating disease.
Anonymous Friend
02/17/2022
$20.91
I can't do much but I want to help?
Anonymous Friend
07/17/2021
$5.46
Anonymous Friend
06/02/2021
$10.61
I follow your sweet family on Tiktok and pray for Alice often! Praying for lots of good days, happy times, and a cure!
Karen Prokop
05/11/2021
$20.00
Anonymous Friend
05/07/2021
$51.80
Katrina Puno
05/06/2021
$20.91
Hugs and kisses to your daughter ❤️
Anonymous Friend
05/06/2021
$20.91
❤
Anonymous Friend
05/06/2021
$10.00
Anonymous Friend
05/06/2021
$26.06
Praying for you sweet Alice and your family.
Caroline Romeo
05/06/2021
$26.06
Sending prayers to this beautiful little girl and her family
Christina Barker
05/05/2021
$266.59
Sending joy ☀️ ❤️!
Anonymous Bless You
05/03/2021
$15.00
I'm a mother of a little girl named Lovely. She was born 3 years ago with multiple health complications. I'm praying for you as you stand and fight for the life of your little one. Truth be told the days that seem like bad days are truly the good days. Each day that she is alive is worth celebrating.
Anonymous Friend
05/01/2021
$15.76
I saw your tiktok and I thought, "Aww, she's so precious and looks like my daughter's age. (Seeing they are 2 days apart.)" Prayers to your family!
Anonymous Friend
05/01/2021
$26.06
Josey Brooks
05/01/2021
$5.46
I saw your Tik-Tok and wanted to help as much as I could right now. God Bless Your Sweet Baby.
Anonymous Friend
04/24/2021
$412.26
Anonymous Friend
04/24/2021
$26.26
Praying for a cure!!!
Erika Vargas
04/22/2021
$31.20
Wish the best to your daughter!!! I pray that God will heal her!!!
Anonymous Friend
04/22/2021
$51.80
Sorry I could not give more ?
Caroline Beckham
04/22/2021
$20.91
Prayers for this beautiful girl & her family.
Sandra Cordova
04/22/2021
$51.80
I hope they find a cure ASAP!
Anonymous Friend
04/21/2021
$103.30
Sending love and prayers to Alice and family ❤️ ? ?
Shawna Rizzuti
04/08/2021
$51.80
Brooke Pavel
04/02/2021
$20.91
Hopeful a cure will be found! Prayers!
Timothy Silver
04/01/2021
$247.48
Silver Family Donation ❤
Heather Brittain
03/31/2021
$51.80
All my love, every day
Angela Lopez
03/24/2021
$51.80
Sending love! Always cheering you guys on.
Mark and Michael Hayes
03/23/2021
$257.78
Hope a cure is found! Best wishes to you and your family Tim!
Jessica Harsh
03/20/2021
$51.80
❤️
Annette Rampy
03/15/2021
$103.30
God, please help this sweet child.
Lindsay Stinson
03/04/2021
$26.06
Randy Earles
03/03/2021
$103.30
Keep the faith and stay strong!
Paul Gregory
02/23/2021
$250.00
Jacob Philips
02/22/2021
$26.26
Ethel Defenbaugh
02/21/2021
$100.00
I'm praying for a cure for Alice, my sweet little girl. Great Grandma loves you!
Ashland Colsen
02/21/2021
$127.27
Mary Erickson
02/20/2021
$103.30
Sending love & light your way and hoping for a cure!!
Beverley Six
02/20/2021
$20.91
Sending our love and hope for a cure
Cy Phillips
02/18/2021
$520.60
Evan Parker
02/18/2021
$26.06
Stay strong and keep fighting!
Cody Zoss
02/18/2021
$103.30
In support of Alice, her parents, and all families impacted by AHC.
Jason Zoss
02/18/2021
$154.79
Steve Zoss
02/17/2021
$103.30
For beautiful Baby Alice and ALL children with AHC. A cure is on the way!
Nicole Johnson
02/16/2021
$77.55
My prayers to your family and girls! May the Lord give strength and comfort during this time!
Rebecca Deterding
02/16/2021
$103.30
Shannon Mcwilliams
02/16/2021
$26.06
Lauren Konrad
02/15/2021
$26.06
hugs to your sweet family!
Laura ODonnell
02/15/2021
$51.80
Hoping a cure is found quickly for Alice and all those affected by AHC!
Lori Polka
02/14/2021
$51.80
Prayers for Alice and all AHC kids.
Anonymous Friend
02/14/2021
$21.12
Prayers for Alice and family.
Brad and Jennifer Neal
02/14/2021
$309.27
We are behind you guys! Wonderful parents and darling Alice!
Bailey & Alex Kloberdanz
02/14/2021
$26.06
Praying for a cure for Alex!
Mollie Sink
02/14/2021
$15.76
Kate Zoss
02/14/2021
$100.00
From Great-Grandma Zoss
Anonymous Friend
02/14/2021
$70.00
Glenda Gregory
02/14/2021
$206.28
Praveen Aripirala
02/14/2021
$155.82
I hope they find a cure soon!
Evan Sabby
02/13/2021
$50.00
Anonymous Friend
02/13/2021
$10.61
Find a cure!
Lori Nelson
02/13/2021
$51.80
I hope you meet/exceed your fundraising goal! Praying for Alice and for your family.
Sheryl Garman
02/13/2021
$50.00
Anonymous Friend
02/13/2021
$20.00
Carolyn Vipond
02/13/2021
$51.80
Stephen Henderson
02/12/2021
$206.28
The Henderson's stand with you. Together, we will fight for a cure for Alice, Estella, and all children with AHC. Sending our love and prayers for Alice to have many good days.
Claribel Vizcarra
02/12/2021
$102.02
JORDAN Silver
02/11/2021
$1,030.18
Silver Family donation to help find a cure
Danielle Philips
02/11/2021
$51.52
We will find a cure!
Reid Elattrache
02/11/2021
$206.28
Love, Katie and Reid
Joni Champion
02/11/2021
$51.80
We are here for you guys and baby Alice.
Katie Thompson
02/11/2021
$51.80
Thinking of Alice, the Silver family, and all other families going through this fight. Let's find a cure ❤️
Ali Rockwell
02/11/2021
$103.30
We love you Alice!
Tom and Marilyn Rockwell
02/11/2021
$206.28
This comes with our love for all the sweet children.
Sandi Philips
02/11/2021
$53.66
Thoughts and prayers are with you Alice!
Shelby Silver
02/11/2021
$51.80
Praying for a cure to be found soon!! Tyler and I are here for you guys if you need anything!!
Liz Crees
02/11/2021
$103.30
Valerie Defenbaugh
02/11/2021
$2,021.21
For our granddaughter Alice and for all AHC families!
Anonymous Friend
02/11/2021
$103.30
For our great granddaughter little warrior Alice.
Beverley Six
02/11/2021
$20.91
Sarah Allan
02/11/2021
$31.20
Prayers & love for your family!
Garry Goode
02/11/2021
$51.80
I hope they find a cure soon! You all are in my thoughts and prayers
Ron & Dee Zoss
02/11/2021
$200.00
Sending love & prayers for Alice and other families affected by AHC.
Brooke Stowe
02/11/2021
$100.00
Sarah and Kevin Merrill
02/11/2021
$51.80
Wishing the Silver family love and resilience.
Kristin & Jeremy Hanson
02/11/2021
$206.28
Total
$10,252.08