Stacie Matuska's Fundraising Page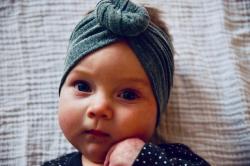 Lainey has been diagnosed with a devastating neurological disease called Alternating Hemiplegia of Childhood (AHC). The disease constitutes bouts of paralysis lasting minutes, to hours, to days. This paralysis will sometimes alternate from one side of the body to the other, other times it will affect the whole body and it also causes global cognitive and physical impairment/delay. Additionally, about 50% of children with this disease have epilepsy which is the case for Lainey. This disease is literally 1 in a million. There are only 300 known cases in the United States and 1,000 known cases in the world.
Learn more about Lainey's story here.
There is currently no cure for this disease and there are limited medications available that have variable success in managing the painful and completely disruptive symptoms. BUT, there is HOPE! Cure AHC, AHC Foundation and Hope for Annabel have been working together on a gene therapy effort using Adeno Associated Virus (AAV) as a delivery system for functioning ATP1A3 to compensate for the mutated ATP1A3 associated with AHC. Gene therapy provides a path to a cure for AHC.
Lainey's future is incredibly uncertain and we aren't willing to sit around and let this disease strip her of a full life. Please help us in making a donation to find a cure for this devastating disease.
ABOUT AAV Project and Other Research
With funds raised from the AHC Foundation, we will support AAV gene therapy and other research related to the project. We believe a path has been identified to a viable permanent treatment: gene therapy. The gene therapy we propose will involve inserting a functional copy of the ATP1A3 gene into a virus (an adeno-associated virus or AAV) that has been stripped of its harmful payload and its ability to reproduce. The virus will then be injected into the cerebrospinal fluid and will carry the functional gene to the cells in the brain that are failing. By delivering additional functional copies of the gene, we should be able to rescue those cells, and treat the disease permanently.
Learn more about the project here.
Supporters
Name
Date
Amount
Comments
Kathleen Matuska
08/21/2022
$103.30
Happy Birthday, sweet Lainey. We love you and hope for a cure! Grandma and Grandpa Matuska
Jon Sauer
08/20/2022
$103.30
Happy 4th Birthday, Lainey!
Marcia Handahl
08/19/2022
$309.27
Remembering GG Wulf as we continue to have great hope for a cure.
Anonymous Friend
08/19/2022
$72.40
Keep up the good fight! You are always in our prayers!
Raj and Emily Chaphalkar
05/13/2022
$52.34
Holly Ricker
05/06/2022
$103.30
Sending our prayers to the entire Wulf family. Roger was a very special man and he will be missed very much. With sympathy, Scott and Holly
MV Mustang Girls
03/01/2022
$119.98
Always thinking and praying for you sweet Lainey!!
Anonymous Friend
12/22/2021
$412.26
Mike Maddox
11/18/2021
$257.78
Mary Elliott
10/14/2021
$51.80
Love & Prayers for Lainey!
Peter Schreiber
09/21/2021
$51.80
Alex Horton
06/30/2021
$103.30
Sending best wishes to Lainey and your family.
Thomas Johnson
12/28/2019
$25.00
Atonement Lutheran Church
12/19/2019
$3,036.45
J A Wedum Foundation Matching Grant
12/03/2019
$25,000.00
Linda and Steve Elbert
11/14/2019
$500.00
Hugs to Lainey and Family
Jan and Dave Algoe
11/01/2019
$100.00
We're hopeful for a cure for this disease.
Anonymous Friend
10/24/2019
$100.00
Julie Broker
10/13/2019
$100.00
Thoughts and prayers to Lainey and her family.
Larry Asplin
10/12/2019
$50.00
Continued prayers for a cure SOON! Atonement loves you!!
Kris & Greg Lehman
10/11/2019
$50.00
Thinking of you and wishing we could be at the fundraiser on Sunday at Atonement. You've been on our minds and in our prayers so very often.
Anonymous Friend
10/10/2019
$3,780.00
HANDy Product Washers Tournament Fundraiser (part 2!)
Don Handahl
09/25/2019
$1,000.00
Dave & Melissa Klein
09/24/2019
$500.00
Praying for Lainey!
Anonymous Friend
09/19/2019
$4,700.00
HANDy Products Washer's Tournament Donation & Match!
Mitch Speicher
09/18/2019
$50.00
Taylor Dale
09/16/2019
$20.00
Marcia Handahl
09/13/2019
$250.00
Love & Hugs to Sweet Lainey!!
Stacie Matuska
09/13/2019
$100.00
HANDy Paint Pail donation for our sweet Lainey!
Britta Lang
09/12/2019
$100.00
Joe Nigro
09/11/2019
$50.00
Additional HANDy event day funds.
Thomas Lang
09/10/2019
$200.00
HANDy Paint Products
Rob Tracy
09/10/2019
$100.00
DAN HARRIS
09/09/2019
$100.00
Jon Sauer
08/26/2019
$100.00
Happy (1 wk late) birthday, Lainey! Praying for a cure.
Megan Bergman
07/25/2019
$20.00
Anonymous Friend
07/16/2019
$200.00
Mariam and David Grigoryan
07/09/2019
$100.00
Prayers and positive healing energy to you and all those affected
Prime Therapeutics
06/25/2019
$988.00
Catherine Hafdahl
06/24/2019
$50.00
LifeCore yoga
06/15/2019
$790.00
General Mills matching
06/15/2019
$2,262.00
Andrea Klosner
06/11/2019
$50.00
Anonymous Friend
06/10/2019
$100.00
Colleen Geraty
06/07/2019
$50.00
Melissa Schwartz
05/13/2019
$100.00
Anonymous Friend
04/30/2019
$50.00
Prays to your family.
Anonymous Friend
04/29/2019
$500.00
Sending love and great hope!
Marcia Handahl
04/29/2019
$500.00
Love and prayers are sent your way!!
Robert Ertel
04/28/2019
$200.00
Sheila Handahl
04/24/2019
$300.00
Cheryl Karlgaard
04/23/2019
$50.00
We pray for a cure for AHC!! We love you Lainey Don and Cheryl
Ken & Terri Andrzejewski
04/22/2019
$100.00
God Bless you and your family!
Evereve
04/18/2019
$2,502.21
Wolffs & Cigna
04/15/2019
$242.57
Anonymous Friend
04/13/2019
$50.00
Medtronic Corporate Matching
04/11/2019
$5,380.00
Thrivent Corporate Matching
04/11/2019
$5,000.00
Vicki Peterson
04/08/2019
$50.00
Bridget Bakko
04/08/2019
$250.00
Hopeful for a cure! Sending love and well-wishes from Jax
Brian & Kathy Blanchard
04/06/2019
$100.00
Blair Lyerly-Samuelson
04/05/2019
$50.00
Sending our love and hope for a cure, The Lyerly-Samuelson Family.
Jesse and Stacy Ellens
04/05/2019
$500.00
Sending prayers!
Robert Ertel
04/05/2019
$100.00
Brian Fahey
04/05/2019
$50.00
Ed Zarembo
04/05/2019
$200.00
There's nothing much I can really say. I got a hold of your letter through Bob Ertel. This is extremely devastating news. I'm very sorry to hear about Lainey's diagnosis and I can't even imagine what you're going through. I sincerely hope the medical folks are able to help her in some way through research and this gene therapy project. -Ed Z
Dan, Sarah, John, Annika Karlgaard
04/05/2019
$100.00
Anonymous Friend
04/04/2019
$50.00
Ray Hoover
04/04/2019
$100.00
Stacie, I'm so very sorry your family is going through this. Though we only knew each other for 3 years 15 years ago, I'm not at all surprised to find you facing this tragedy head on. I can only hope Lainey has the same strength and perseverance that her mom does. -Ray
Stacie Matuska
04/01/2019
$1,000.00
Donation from Matuska family and friends
Rob Matuska
04/01/2019
$1,000.00
Donation from Matuska family and friends
Laurie & Bill Leitch/Gorcica
03/28/2019
$100.00
Please know that we and many others at Atonement hold you all in our arms, and send healing thoughts and prayers to your entire family.
Lainey Matuska
03/28/2019
$50.00
Love, hope and prayers for sweet Lainey and the Matuska Family!
Andrew Miller
03/27/2019
$100.00
Stay strong, Lainey.
Nicole Schafer
03/26/2019
$250.00
Paul Dorey
03/25/2019
$50.00
Elaine & Phil Alman
03/21/2019
$50.00
Hopes and prayers for a cure for beautiful Lainey Matuska.
J.A. Wedum Foundation
03/19/2019
$5,000.00
Stephanie Benson
03/17/2019
$500.00
Donating on behalf of Holly and Scott Ricker
Anonymous Friend
03/17/2019
$50.00
Jan and Ray Zittlow
03/16/2019
$100.00
Lizza Sue Photography
03/15/2019
$150.00
Without hesitation Kelly was the very first to jump in and support this cause! I'm so happy we can support AHC and push for a CURE!!!!!
Lizza Sue Photography
03/15/2019
$125.00
Mamma to be, Meredith is happy to be supporting this cause!
Lizza Sue Photography
03/15/2019
$300.00
Lizza Sue Photography
03/15/2019
$50.00
Lizza Sue Photography
03/15/2019
$150.00
Praying for this little girl and others for a CURE!
Jaki & Jan Aamodt
03/14/2019
$100.00
Our prayers are with all of you.
Anonymous Friend
03/14/2019
$100.00
While I don't know Lainey personally, her story and courage has touched my heart.
Raj and Emily Chaphalkar
03/14/2019
$50.00
Love from your friends in Saint Joseph/Collegeville.
Nicole Becker
03/13/2019
$25.00
Prayers you get your cure!
Kelsey Kackman
03/13/2019
$100.00
Praying for Lainey!
Anonymous Friend
03/12/2019
$100.00
For Lainey and hope for a cure!
Chris Pettit
03/10/2019
$50.00
Scott Arundel
03/09/2019
$50.00
Joel and Alyssa Fisher Family Fund
03/08/2019
$1,500.00
Julia & Greg Broge
03/06/2019
$50.00
Praying for strength for Lainey and your entire family! Also praying that through the research, they will find a cure!
Fermoyle and Stanislav family
03/05/2019
$100.00
In Honor of: Lainey Matuska and research into her condition
Erin Phillips
03/04/2019
$50.00
It takes a village to raise beautifully special children!
Anonymous Friend
03/04/2019
$100.00
Nicole Douvier
03/03/2019
$25.00
Phil & Nancy Sturlaugson
03/03/2019
$250.00
Hoping for a cure!
Irene and Karen
03/02/2019
$100.00
With hope and love for Lainey.
Anne May
02/28/2019
$50.00
Jennifer Deising
02/28/2019
$25.00
Luke, Christine, Sophia, William, and Kennedy Karlgaard
02/28/2019
$100.00
Kevin Winneroski
02/26/2019
$50.00
Erin Schwind
02/26/2019
$250.00
Karee, John and Paige Lucchese
02/26/2019
$50.00
Margie Oleson
02/25/2019
$100.00
Sending love and prayers!
Stephanie Benson
02/25/2019
$500.00
Donation on behalf of Mom Handahl :)
Laura Saltzstein
02/24/2019
$50.00
Keeping your family in my thoughts all the time!
Dina Barsky
02/24/2019
$50.00
Sending you prayers and patience as they find a cure!
Leslie Robertson
02/24/2019
$100.00
Praying for Lainey!
Nancy Ly
02/23/2019
$80.00
Sending love, faith and warmth to Lainey and her family.
Lorrie & Joe Tucker
02/23/2019
$75.00
Keeping you in our prayers.
Michelle Milless
02/22/2019
$50.00
Sending love and prayers to Lainey and your family.
Anonymous Friend
02/22/2019
$30.00
Rachel and Sam Collette
02/22/2019
$50.00
Jessica Holck
02/22/2019
$50.00
Love and prayers each day!
Robert Ricker
02/22/2019
$100.00
Uncle Bob and Oma Ricker are sending love and prayers your way!
Maria Simmons (Amaro)
02/22/2019
$100.00
Praying for your precious girl!
Anonymous Friend
02/21/2019
$50.00
Emma Swank
02/21/2019
$200.00
Dear family, I believe Lainey will get the treatment she needs. She is so precious and so loved. Sending love from Japan! Xo
Jenny Jurek
02/21/2019
$100.00
Prayers for your family as you fight for a cure for your sweet baby girl.
Anna Judnick
02/21/2019
$75.00
Danielle Lewis
02/21/2019
$100.00
Brigette Kerber
02/21/2019
$50.00
Supporting you through this fight! In honor of our sweet angel Lynnea
Sayuri Sakamoto
02/21/2019
$100.00
May all be happy,
Kevin Wellmann
02/21/2019
$1,000.00
Praying for a cure.
Josh Wille
02/20/2019
$50.00
Joe Sebesta
02/20/2019
$50.00
Caitlin Linster
02/20/2019
$20.00
For a beautiful family.
Ryan & Kate Campbell
02/20/2019
$100.00
Sending our love and prayers to Lainey and family.
Gaby & Lexi Mielke
02/20/2019
$150.00
We love you Lainey!
William Estrem
02/20/2019
$50.00
Good luck dealing with this terrible illness. I hope they are able to come up with a cure.
Kalley Leer
02/20/2019
$50.00
Sending love and strength to you all.
Anonymous Friend
02/20/2019
$100.00
For Lainey and a cure
Colin Waitt
02/20/2019
$50.00
Jessica & Scott Snyder
02/20/2019
$100.00
Keep fighting and never lose hope! Lainey and her amazing family will be in our prayers.
Steve & Pat Ahlberg
02/20/2019
$200.00
Love and prayers for all of you
Alexis Gibb
02/20/2019
$100.00
Jessica Evans
02/20/2019
$50.00
Sending our love and prayers!
Maggie + Marshall Jacobson
02/20/2019
$100.00
Anonymous Friend
02/20/2019
$40.00
Anita & Bob Carlson
02/20/2019
$50.00
Praying for Lainey!
Anonymous Friend
02/20/2019
$20.00
Praying for your sweet little girl!
Kevin Bergeson
02/20/2019
$20.00
Go Lainey!
Melinda Sundquist
02/20/2019
$50.00
Though she be but little, she is fierce...Shakespeare
Anonymous Friend
02/20/2019
$50.00
Praying for you.
Tessa Strack
02/20/2019
$50.00
Mary Gebhart
02/20/2019
$25.00
From Peter Newby and Mary Gebhart friends of Mary Lou Will.
Ryan & Elizabeth Johnston
02/20/2019
$50.00
Praying for you, Lainey!
Kim and Kevin Burck
02/20/2019
$50.00
Mark Greco
02/20/2019
$50.00
Jen & Christian Quie
02/19/2019
$100.00
Prayers & Love for Lainey!
Jon Sauer
02/19/2019
$200.00
Praying for you, Lainey!
Anna & Nick Lovas
02/19/2019
$100.00
Praying for Lainey & family.
Melissa Konrad
02/19/2019
$50.00
Craig Rueter
02/19/2019
$25.00
Mostafa Toloui
02/19/2019
$100.00
Anne Hill
02/19/2019
$50.00
Lainey, you have incredible parents who are going to stop at nothing to do their best for you. We have you in our thoughts sweet little girl!!!! -The Hills
Nick & Gaby Wenck
02/19/2019
$50.00
Sending a hug your way from Amelia!
Kris Andre
02/19/2019
$20.00
Praying for Lainey!!
Rob & Jess Williams
02/19/2019
$50.00
Laura Loehrs
02/19/2019
$500.00
Shannon Schneider
02/19/2019
$50.00
Sending you all our prayers sweet baby girl<3 The Schneider's
Kelly Backes
02/19/2019
$500.00
Praying for sweet little Lainey! Love, the Backes Family
Taylor Pacyna
02/19/2019
$50.00
Amanda Alex & Alaina Meyer
02/19/2019
$100.00
For Lainey. For the cure!
Megan Fritz
02/19/2019
$100.00
Anonymous Friend
02/19/2019
$500.00
Praying
Anonymous Friend
02/19/2019
$25.00
Brooke Johnson
02/19/2019
$100.00
Thinking of your entire family. Lifting you up in prayers
Ryan, Amanda, Clark, Hadley & Archer Wahlund
02/19/2019
$300.00
Jesus Espina-Velosa
02/19/2019
$100.00
Wishing you the best!
Claire Lande
02/19/2019
$100.00
The Angell Family
02/18/2019
$100.00
Sending our love and prayers.
Danielle Hoag
02/18/2019
$100.00
Sending all our love to sweet little Lainey! xoxo
Anonymous Friend
02/18/2019
$25.00
Anna Nelson
02/18/2019
$50.00
Josh & Christina Kraft
02/18/2019
$100.00
Sending our thoughts, love, and prayers.
Jon & Jess Pasek
02/18/2019
$100.00
Anne Jewison
02/18/2019
$25.00
Steph Benson shared your story. Prayers for your family and those working to find a cure for this.
Andrea, Miah, Lila, Zach Becker
02/18/2019
$100.00
Praying for Lainey!! ❤️
Anonymous Friend
02/18/2019
$50.00
Laura and Alex Westberg
02/18/2019
$100.00
We're rooting for you!
Emma Wick
02/18/2019
$5.00
Kolleen Fulop
02/18/2019
$300.00
Praying for Lainey!
Patrick Brown
02/18/2019
$50.00
Anonymous Friend
02/18/2019
$50.00
Prayers for Lainey
Tom & Joyce O'Neill
02/18/2019
$100.00
All our love and prayers
Sam and JoJo Barthell
02/18/2019
$100.00
Megan Foehrenbacher
02/18/2019
$40.00
Hugs to Lainey and your family!
Holly O'Hanlon
02/18/2019
$50.00
Our thoughts are with you all and sweet Lainey! ~ The Brierley Family
Anonymous Friend
02/18/2019
$50.00
Thinking of you all and hoping your prayers are answered quickly.
Lesley Kurowski
02/18/2019
$50.00
Sending prayers ❤️
Bob and Mary Matuska
02/18/2019
$100.00
Sue Mance
02/18/2019
$100.00
Erin Koshiol
02/18/2019
$50.00
Rob & Katie Mark
02/18/2019
$100.00
Sending our love. ❤️
The Wolff's
02/18/2019
$250.00
You've got this baby girl!
Mark Bakko
02/18/2019
$1,000.00
Sending our love, prayers, and hugs to your whole family.
Andy & Amanda Tucker
02/17/2019
$100.00
Praying!
The VanOverbekes
02/17/2019
$200.00
Sharon De Leon
02/17/2019
$25.00
Prayers for a cure!
Anonymous Friend
02/17/2019
$2,500.00
Rooting for you all the way, Lainey!
Andrea Kales
02/17/2019
$500.00
Love to all of you!!! Holding all of you in prayer and fighting, you got this!!
Annie Carruthers
02/17/2019
$100.00
Thomas Matuska
02/16/2019
$100.00
Hope for Lainey
Uncle Donny Matuska
02/16/2019
$200.00
And Aunt Alycia
Lori Lewis
02/16/2019
$50.00
Hope for Lainey
Alana Suomela
02/16/2019
$100.00
Hope, prayers, and research for Baby Lainey.
Rich & Nancy Benson
02/16/2019
$100.00
Sending our love, hope and prayers for sweet Lainey and the entire Matuska family.
Stacy Falteisek
02/15/2019
$50.00
Sending lots of hope and prayers for a cure!!
Anonymous Friend
02/15/2019
$1,000.00
Praying for Lainey and all the other kids patiently waiting for this research!
Ashley Olt
02/14/2019
$50.00
Sending hope & prayers your way!
Jay Picconatto
02/14/2019
$100.00
Thoughts and prayers to the whole Matuska family.
Anonymous Friend
02/14/2019
$500.00
Sarah Taylor
02/14/2019
$200.00
Lots of love for Lainey!
Deena Koenig
02/14/2019
$25.00
Anonymous Friend
02/14/2019
$5,000.00
For our sweet Lainey- fight hard baby girl! We will be fighting alongside of you!
Rogan Saal
02/14/2019
$100.00
For your sweet little girl and family. Stay strong!
Anonymous Friend
02/14/2019
$50.00
Praying for Lainey and your family!!!
Paula Rabaey
02/13/2019
$100.00
Blessings and hugs to all! Lainey will be in our prayers!
Katie Deutsch
02/13/2019
$300.00
For Lainey and for all. We love you.
Sarah Turley
02/13/2019
$50.00
For brave little girl and her family. Blessings on your journey.
Vicki Holtan
02/13/2019
$100.00
I believe in the promising research that is going on with the AAV project! I will pray for the amazing individuals and groups who are using their time and gifts to find a cure!
The Brum Family
02/13/2019
$50.00
Praying for sweet Lainey and her family.
Steph Toutant
02/13/2019
$100.00
Praying for you guys! -PJ & Steph Toutant
Lori and Vince Mohs
02/13/2019
$100.00
For Baby Lainey
Jen Corrigan
02/13/2019
$50.00
Sarah Martin
02/13/2019
$100.00
Lifting up sweet Lainey and family! She is one loved girlie!
Natalie Richards
02/13/2019
$20.00
Thank you for sharing your story. We will be praying for a cure
Anonymous Friend
02/12/2019
$50.00
Michelle Luetkemeyer
02/12/2019
$50.00
Love for Lainey
Heather Lucia
02/12/2019
$100.00
Cindy Egeness
02/12/2019
$50.00
Paula Gajewski Mickelson
02/12/2019
$50.00
Sam & Nick Erickson
02/12/2019
$50.00
Martha Phillips
02/12/2019
$50.00
The Bergman Family
02/12/2019
$5,000.00
Hope and prayers!
Anonymous Friend
02/12/2019
$100.00
Love to your family
Kim Sands
02/12/2019
$50.00
Praying for Little Lainey
Katie Doerer
02/12/2019
$100.00
Denise Inmon
02/12/2019
$100.00
Lots of love and prayers for the entire Matuska family!
Kelly Sykes
02/12/2019
$50.00
Big hope for baby Lainey
Kristin Chalberg
02/12/2019
$50.00
LH Gildensoph
02/12/2019
$50.00
Sending love and hugs
Mike Maddox
02/12/2019
$50.00
Dawn Erickson
02/12/2019
$100.00
All our love to your family! #laineystrong
Kevin Stickney
02/12/2019
$300.00
Hope for Lainey!
Kari Rhode
02/12/2019
$100.00
Nate Sis
02/12/2019
$250.00
Adam Eckhardt
02/12/2019
$100.00
Praying for Lainey!
Anonymous Friend
02/11/2019
$50.00
Katie & Steve Gunville
02/11/2019
$30.00
Praying for you!
Mary Hearst
02/11/2019
$200.00
Our love to you all.
Jenna Iaizzo
02/11/2019
$300.00
For Lainey!
Mike & Manuela Benson
02/11/2019
$50.00
Praying for you❤️
Emma Wick
02/11/2019
$20.00
Anonymous Friend
02/11/2019
$25.00
Lindsay Howard
02/11/2019
$50.00
Peter Lee
02/11/2019
$100.00
Go Lainey!!!
Mike Klaas
02/11/2019
$50.00
Brent Thiesen
02/11/2019
$30.00
Sarah Lenton
02/11/2019
$50.00
Peter Schreiber
02/11/2019
$50.00
Mike DiAngelis
02/11/2019
$100.00
Rachel Evans
02/11/2019
$50.00
Charley O'Neill
02/11/2019
$100.00
Kathleen Matuska
02/11/2019
$100.00
Tommy Bennett
02/11/2019
$25.00
Meg and Eva Meierhoff
02/11/2019
$100.00
Lee Zehnder
02/11/2019
$25.00
Lainey you got this!! Love, Zehnders
Meghan Riley
02/11/2019
$100.00
Anonymous Friend
02/11/2019
$100.00
Anonymous Friend
02/11/2019
$100.00
Cecilia Konchar Farr
02/11/2019
$25.00
Britta Lang
02/11/2019
$250.00
We love you all!!!!!
Lainey Matuska
02/11/2019
$50.00
Anuja Deshpande
02/11/2019
$50.00
Christy Ressler
02/11/2019
$50.00
Bob&Betty Smith
02/11/2019
$50.00
Prayers sent for Lainey and the entire family
Anna and Toby Silverman
02/11/2019
$50.00
For sweet angel Lainey and her fight!
Abbey Sjogren
02/11/2019
$100.00
Praying for you sweet girl.
Robyn Boche
02/11/2019
$100.00
Sending love to you all!
Quita Oleson
02/11/2019
$150.00
Shannon Quealy Dye
02/11/2019
$100.00
Sending love
Lauren Byrd
02/11/2019
$50.00
Hope!
Clare O'Brien
02/11/2019
$75.00
Melissa Preusser
02/11/2019
$50.00
Prayers for Laniey and her family.
Laura Dourgarian
02/11/2019
$100.00
Anonymous Friend
02/11/2019
$100.00
There's always money in the banana stand
Ashley Schafer
02/11/2019
$100.00
Brittan Leiser
02/11/2019
$50.00
Thinking of you, Stacie! You and your adorable family are in my thoughts and prayers! Here's hoping little Lainey can participate in future "Fall baking days" with you when she's older :)
Whit & Terri
02/11/2019
$50.00
Love & Hope :)
Kevin Greer
02/11/2019
$100.00
Anonymous Friend
02/11/2019
$100.00
Tieg & Bri Herman
02/11/2019
$100.00
Kelsey Graf
02/10/2019
$300.00
For our sweet superhero! Xoxo The Grafs
Katie Rogstad
02/10/2019
$50.00
For baby Lainey ❤️
Ryan, Andrea, Bauer Beduhn
02/10/2019
$500.00
Let's do this!!!!!!!! We love you!!!
Adam, Kayla, and Madeline Butler
02/10/2019
$100.00
We love you, sweet girl!
Kristin Moran
02/10/2019
$100.00
Praying for you guys every step of the way! Love, Andrew and Kristin Moran
Megan Jorgensen
02/10/2019
$100.00
We love you Lainey! Let's find a cure! Love from the Jorgensens
The Novaks
02/10/2019
$75.00
For Lainey ❤️
Allison, Bob, Cameron Ertel
02/10/2019
$100.00
David Weller
02/10/2019
$500.00
It may have been a long time sence we've seen each other but we will always be friends.
The Zittlows
02/10/2019
$300.00
We love you sweet Lainey girl!! ❤️
Lydia Turnbull
02/10/2019
$250.00
Thinking of Lainey and you all
Shannon & Ron Cooper
02/10/2019
$300.00
We love you sweet girl!
Brooke Valenta
02/10/2019
$300.00
We Love you sweetest Lainey! The Valenta's!
Bryan & Liz Bauck
02/10/2019
$30.00
Praying for you Lainey❤️
Bruce & Lynette Butler
02/10/2019
$100.00
Nick and Katie Leiting
02/10/2019
$50.00
Stephanie Benson
02/10/2019
$25.00
Donating on behalf of Jamie Furey and family.
Nicole, Brendan and Theo Buster
02/10/2019
$50.00
Thinking of you all!
Michelle Mccambridge
02/10/2019
$200.00
HOPE
Tom Parker
02/10/2019
$100.00
Sonja Hall
02/10/2019
$100.00
Sending love!
Kasey Dolejsi
02/10/2019
$30.00
For Lainey girl
Nick, Abbey & Elin Serati
02/10/2019
$150.00
For one brave little girl. Love you guys!
David Naab
02/04/2019
$100.00
Total
$112,522.06
Report Abuse
Edit My Page